OVER 25 YEARS MARKETING EXPERTISE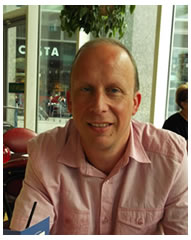 Stuart Lanham formed Beach Hut Studio back in 2001 initially as a part time outlet for his marketing and web design creative skills. 
In 2009, Stuart took over the management of Beach Hut Studio on a full time business providing marketing, communication and web design services to small business clients across the UK.
BLUE CHIPS TO SME START-UPS
Stuart has had a 25 year career working in various marketing and communication roles for companies ranging from Blue Chips to SME start-ups. Some of the more familiar brands include Direct Line, Gatwick Airport, Churchill Insurance and Green Flag.
Roles undertaken in these businesses included: Head of Marketing, Head of Operations, Group Communications Manager, Marketing Communications Manager, Customer Experience Manager, CRM Manager and Customer Insight Manager.
AWARD WINNING MARKETING & CUSTOMER SERVICE
Winner of the Insurance Industry Training Award. Won for the development of a leading edge staff Customer Service communication and training programme
Runner Up for Insurance Industry Marketing & Advertising Award. Developing a National Advertising Campaign supporting small businesses in the UK.
Runner Up for Insurance Industry Broker Support Award. Developing a Marketing Support Kit to help independent brokers with lead generation and cross selling
ACADEMIC & PROFESSIONAL PROFILE
MBA from Brighton University
Degree from Huddersfield University (BA Hons Business Studies)
Diploma in Marketing
Chartered Marketer in 2011
A MARKETING APPROACH TO WEB DESIGN
Stuart has been designing and developing websites on a freelance basis since 2001 building up a portfolio of over 50 profitable websites.
Throughout this time Stuart has put the emphasis on using marketing expertise to build websites that work in the real world. This is not a 'pretty graphic designer' website approach, but one focussed on clear messaging and sign posting to deliver results.
WIDE RANGE OF BUSINESS SECTORS
Websites have been developed for many different business sectors including:
Travel and Accommodation
Garden Attractions
Lanscapers and garden designers
Personalised promotional clothing and gifts
Car Repairs and Servicing
Pubs & Restaurants
Accountants and Bookkeepers
Dog trainers
Societies and Community Interest projects
Language Schools, TEFL Tutors and Private Tutors
Consultants including Interior Design, Medical Information and Stocktakers
Manufacturers

Take a look at our web design showcase to see examples of our work.
BUSINESS MARKETING SUPPORT ACROSS THE UK
Beach Hut Studio is based in Shoreham by Sea, West Sussex. Shoreham is based between Brighton and Worthing which makes it ideally placed to support businesses there and in the area including Southwick, Lancing, Hove and Portslade. However, it is conveniently on a fast rail route to Burgess Hill, Haywards Heath and London.
Our Marketing expertise works in any business and so we would be delighted to talk to you about your project. Please contact us via our contact form.