Websites for private and TEFL tutors
Whether you are a private tutor or a TEFL (teaching English as a foreign language) tutor for students, a website can be a valuable way to raise your profile and gain you new clients.
Design, build, host and manage your website
These days it is fairly easy for anyone to put a website live but sadly that doesn't mean it's a good website that gets across your key messages and reflects well on you.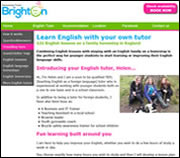 We have a portfolio of over 50 websites, many of them for tutors and language schools, and know what works and what doesn't. We will use our experience to help you have a great website that delivers your objectives.
We will WRITE your content too
Our new logo and website looks great and it's already doing so well in google, thank you!
Brighton Homestay Tutor
Importantly, we will not only design your website, we will help write your content. We know for many people writing about themselves and getting key messages down on paper is hard, so we listen to what you want to say and then help you get it across on a website.
Of course, you know what you want to get across best so while we will draft words, we will work with you on getting them right.
Great features... location maps, weather, galleries
Your website can include a range of useful features for your visitors including picture galleries, location maps, local weather forecasts, visitor maps, travel guides and lots more.
Informative, clear and easy to understand
Websites, particularly those for foreign language students, need to be like your lessons... informative, clear and easy to understand. With this in mind we work hard to ensure that the structure of your website, including menus, images, text and layout, meet this simple criteria.
Techy bit.... Mobile & Tablet friendly HTML5 and CSS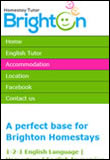 We don't want to bore you with technical details, so rest assured that your website will be built in leading industry standard code (HTML5 and CSS).
With the ever increasing use of mobiles and tablets to access the internet, your site will also be designed to work effectively across all formats from PC and iPad to your mobile phone (see image on right for how the Brighton Homestay Tutor website adjusts).
Google friendly too!
A website is no good without visitors and so our websites are built to be search engine (google, Bing, yahoo) friendly. We achieve this by building websites with high quality, original content and good industry standard coding.
Delighting our Customers
Beach Hut Studio has been working with small businesses online for over 10 years. We work very closely with our customers over the medium to long term to deliver sustainable benefits.
However, don't just take our word for it. Please take a look at our customer comments and testimonials - we can even arrange a call with them if required.
Find out more
We work with language schools, English language tutors, TEFL tutors and private teachers at locations across the UK and would be delighted to discuss your website needs.
Please contact us via our contact form.