Beach Hut Studio has completed a re-design of the Shoreham Bonfire Society logo, branding and website in preparation for the 5th annual beach bonfire event.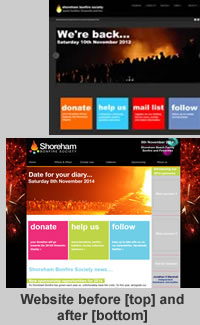 The new logo is base upon the original Shoreham Bonfire look but freshens it up with new colours and styling.  This new look for the Sussex based community project has then been used for the basis of the new website focusing on images from previous events and with strong calls to action for people to give donations.
For this 5th year, the new website offers the first opportunity for Shoreham by Sea businesses to sponsor the event, with a sponsorship page highlighing all the benefits available.
In terms of website build, it has been developed to be mobile friendly in HTML5 and CSS.
If you are looking to freshen up your logo or website then please contact Beach Hut Studio.